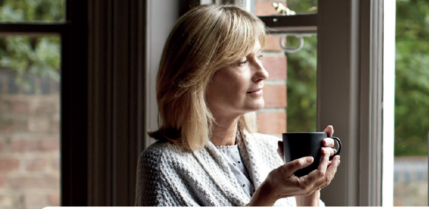 Why Dysport®?
The return of life-disrupting spasms between injections can make simple things in life, like drinking a cup of coffee, difficult again. Dysport can help you achieve relief from your symptoms for up to 14 weeks or longer, allowing you to spend more time enjoying what you like doing
Patient experience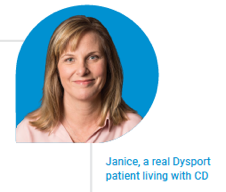 "[Dysport] has lived up to my expectations…it has been a reliable, effective treatment—it's comforting to know that I can count on [it] to work for me."
"I don't feel like I have waning symptom relief. I feel pretty sustained for the 12-week period."
"[With treatment] When [my loved ones] look at me, they don't see cervical dystonia …, they just see me and that makes me happy."  Janice
How Dysport works
How Dysport works
Dysport is a type of prescription medicine called botulinum toxin type A
After Dysport is injected into muscles, it temporarily blocks the overactive signals that cause muscles to tighten (contract), weakening them for up to 12 to 16 weeks or longer in some patients
This may help lessen your symptoms of muscle spasms and neck pain
It is a treatment that you receive right in your doctor's office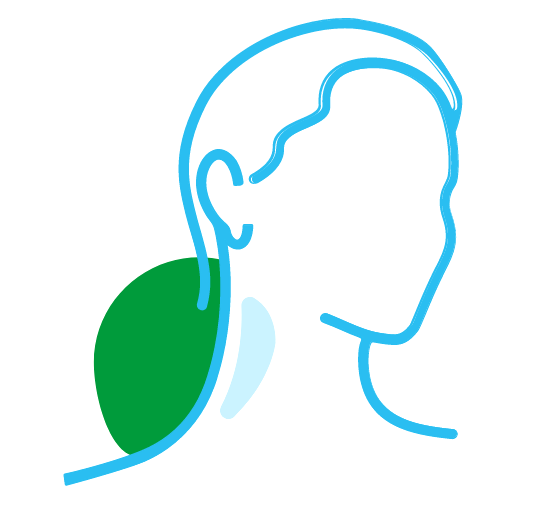 Dysport significantly improved abnormal head position and neck pain
In 2 clinical studies, Dysport significantly improved abnormal position of the head and reduced neck pain at week 4.
In clinical trials, treatment lasted for 14 weeks for most patients

25% of patients were not retreated for at least 18 weeks

Based on studies of patients with cervical dystonia, at least 12 weeks should pass between treatments with a botulinum toxin
Study design: Two clinical studies included 252 patients who were new to treatment and either received Dysport or placebo. At week 4, doctors assessed how well Dysport was working by checking the change in dystonia and patient perception of disability and pain from dystonia.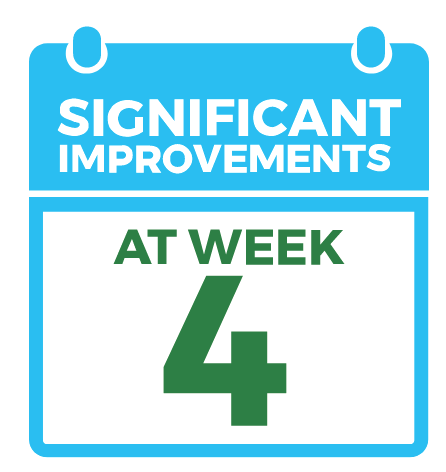 A History of FDA Approval
Duration of FDA approval is not intended to imply superiority in efficacy or safety of Dysport
Commitment to spasticity
Dysport has been available for 10+ years in the US and it has been FDA approved for the treatment of AULS since 2015 and for ALLS since 2017.
2009
Dysport approved for adults with cervical dystonia
2015
Dysport approved for adult upper limb spasticity
2016
Dysport approved for pediatric lower limb spasticity
2017
Dysport approved for expanded indication for adult spasticity to include lower limb orientation
2019
Dysport approved for expanded indication for pediatric spasticity to include upper limb (aged 2 years and older)
Safety & Side Effects
Dysport safety and side effects
Recognize possible side effects—and know what to do about them
The most common side effects of Dysport in people with cervical dystonia include:
muscle weakness

difficulty swallowing

dry mouth

injection site discomfort

tiredness

headache

muscle pain

problems speaking

injection site pain

eye problems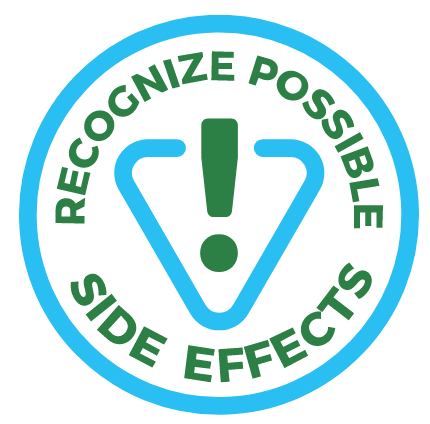 When you take any medicine, it's important to understand how it may affect your body.
While you and your doctor are considering treatment with Dysport, talk about possible common and serious side effects. Tell the doctor if you have any side effect that bothers you or that does not go away. These are not all the possible side effects of Dysport. For more information, ask your doctor or pharmacist or read the Full Prescribing Information. You are encouraged to report negative side effects of prescription drugs to the FDA. Visit www.fda.gov/medwatch or call 1-800-FDA-1088.
The most important safety information you should know about Dysport
Dysport may cause serious side effects, including problems breathing or swallowing and/or spread of toxin effects, that can be life threatening and death can happen as a complication. These problems can happen within hours, or days to weeks after an injection of Dysport.
Who should not take Dysport
Do not take Dysport if you are allergic to Dysport or any of the ingredients in Dysport (See Medication Guide for ingredients), or are allergic to cow's milk protein; had an allergic reaction to any other botulinum toxin product, such as Botox®, Xeomin®, or Myobloc®; or have a skin infection at the planned injection site.
Discussing Dysport with Your Doctor
Talk to your doctor about Dysport
Your doctor is your best source of information about cervical dystonia. Ask your doctor whether Dysport may be a treatment option for you. Whether you have just been diagnosed with cervical dystonia or you are looking to start treatment, you probably have a lot of questions. Here are a few you may want to ask to get started:
What should I expect from Dysport treatment?

How will I know that Dysport therapy is working?

When should I schedule another treatment session?

What is the Important Safety Information I should know about Dysport?

What are the possible side effects of Dysport?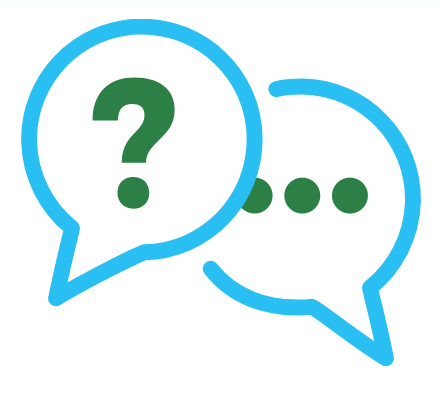 Doctor Discussion Guide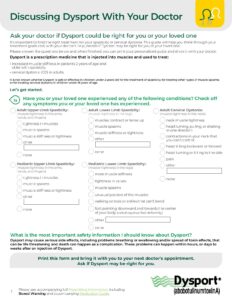 This guide will help you think through your treatment goals and, with your doctor's help, decide if Dysport may be right for you or your loved one.
Your medical history
Before starting treatment with Dysport, you should tell your doctor about all of your medical conditions, especially any that may affect your muscles and nerves. You should also inform your doctor of all other medical conditions, including if you have or have had:
Any problems with breathing, swallowing, or bleeding

A slow or irregular heartbeat or rhythm

Diabetes

Any side effect or allergy to any botulinum toxin product
Also, let your doctor know if you are:
Planning to have surgery

Pregnant or plan to become pregnant; it is not known if Dysport can harm your unborn baby

Breastfeeding or planning to breastfeed; it is not known if Dysport can pass into breast milk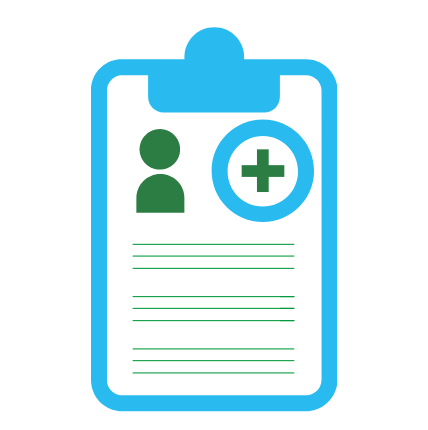 Prior treatment
It is important to inform your doctor if you have ever received any other botulinum toxin products in the past or had an allergic reaction to Botox, Xeomin, or Myobloc,* or had treatment with any of these products in the last 4 months.
Also, let your doctor know if you have recently received an antibiotic by injection or are currently taking any prescription or nonprescription medications, muscle relaxants, sleep medicines, allergy/cold medicines, vitamins, or herbal supplements.
Before starting any new medicines, be sure to tell your doctor if you have ever had treatment with Dysport.
You can receive treatment with Dysport even if you have been treated with another botulinum toxin in the past, such as Botox, Xeomin, or Myobloc.* Dysport was studied in adults with cervical dystonia, including those who had:
Already used another botulinum toxin

Never used any botulinum toxin
Tell your doctor if you have received any botulinum toxin product in the last 4 months and which product you received. Do not take Dysport if you had any allergic reaction to any of these other botulinum toxin products.
Dysport should be given at least 12 weeks after the last injection. Also inform your doctor if you are allergic to any of the inactive ingredients in Dysport, including human albumin or cow's milk protein.
*Botox®, Xeomin®, and Myobloc® are registered trademarks of their respective owners.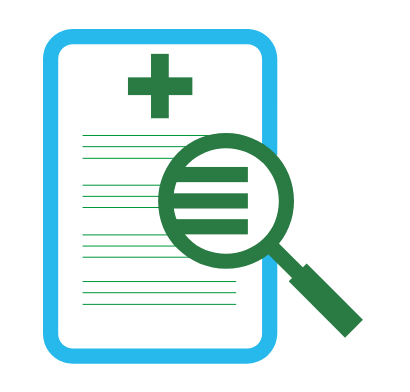 Learn more about Cervical Dystonia