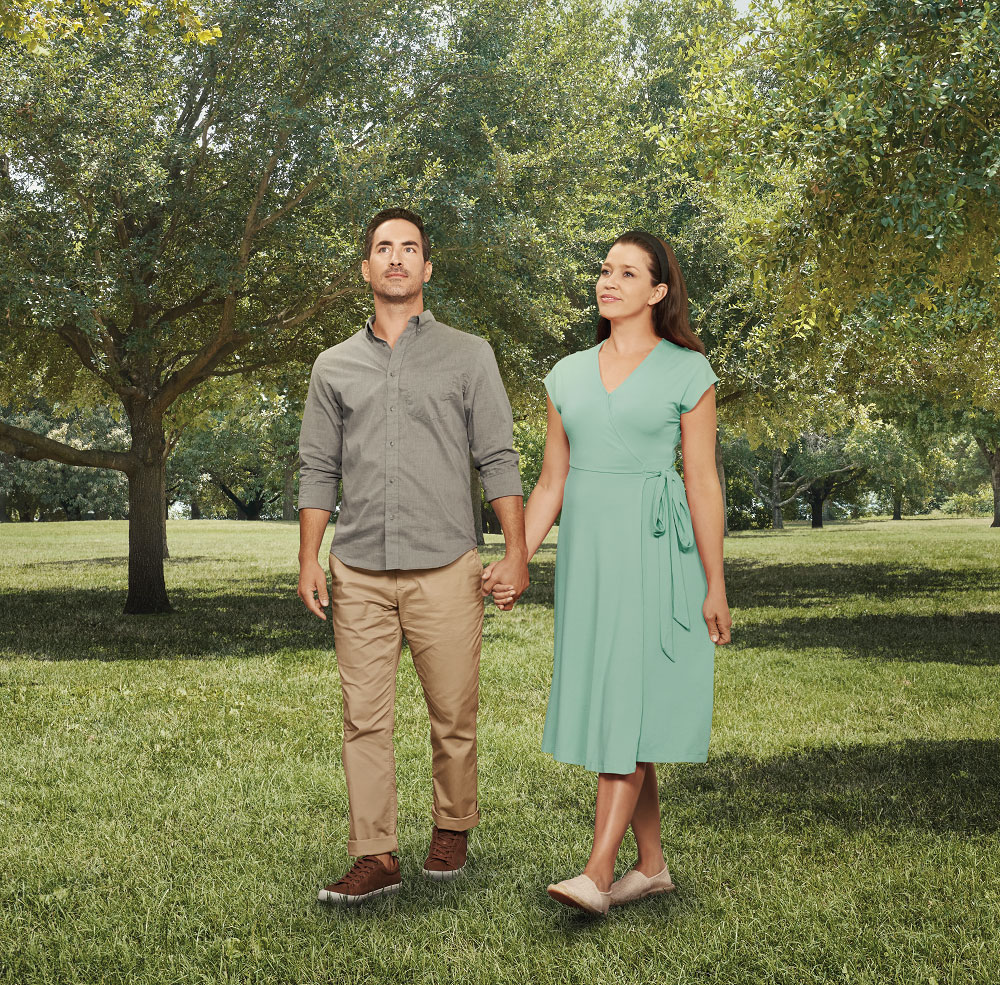 Recommended Doses
Clear dosing recommendations
Dysport has clear dosing guidelines to help you inject approved muscles with appropriate doses1
In adult cervical dystonia, doses up to Dysport 1000 Units (divided among affected muscles) injected intramuscularly were systematically evaluated1

The recommended initial dose is Dysport 500 Units given intramuscularly as a divided dose among affected muscles

Titrate in 250-Unit steps according to patient's response

Select dose based on muscles affected, severity of muscle spasticity, prior response, and adverse reaction history following treatment with Dysport1

Retreatment, based on return of clinical symptoms, should occur no sooner than 12 weeks after the previous injection
Dysport has dosing recommendations for muscles in these key cervical dystonia postures1,7,*: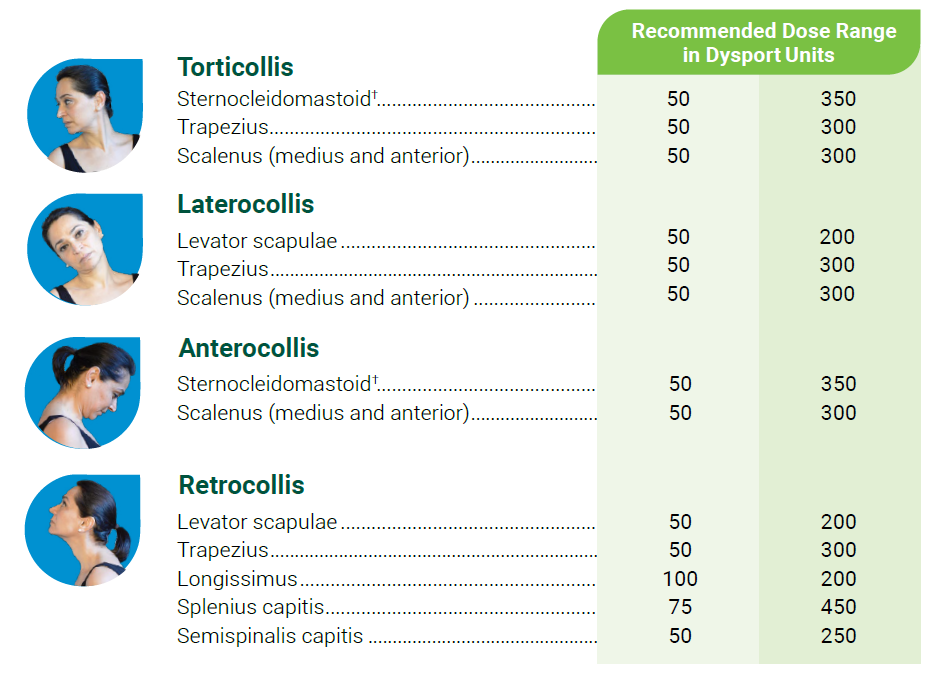 *Not actual patients. Doses up to Dysport 1000 Units (divided among affected muscles) were systemically evaluated. The recommended initial dose is Dysport 500 Units with titration in 250-Unit steps according to the patient's response.
†Median dose: Dysport 125 Units.
Dosing considerations for the sternocleidomastoid (SCM) muscle: Limiting the dose injected unilaterally into the SCM to Dysport 150 Units or less may reduce the occurrence of dysphagia.
Dilution & Reconstitution
Recommended dilution options1
For adult cervical dystonia
For other dilution options, refer to Table 1: Dilution Instructions for Dysport Vials (500 and 300 Units) in package insert Section 2.2: Preparation of Dysport Solution for Administration1

*Sterile, preservative-free 0.9% Sodium Chloride Injection, USP.
Dysport potency units are not interchangeable with other botulinum toxin products.
Reconstitution and injection checklist
Using a sterile syringe, needle, and aseptic technique, draw up the appropriate amount of diluent.*

Insert the needle into the vial. The partial vacuum will begin to pull the diluent into the Dysport vial. Do not use the Dysport vial if no vacuum is observed.

Swirl gently to dissolve. The reconstituted solution should be clear, colorless, and free of particulate matter.

Draw the required patient dose of Dysport into a sterile syringe and dilute with additional diluent, if required, to achieve the final volume for injection.

Expel any air bubbles in the syringe barrel. Remove the needle used to reconstitute the product and attach an appropriately sized new sterile needle to administer the injection.

Inject into target muscle(s) within 24 hours of reconstitution. Dysport should be used for only one injection session and for only one patient after reconstitution.
*Sterile, preservative-free 0.9% Sodium Chloride Injection, USP.
Once reconstituted:
Dysport should be used for only one injection session and for only one patient.

Dysport should be stored in the original container, in a refrigerator at 2°C to 8°C (36°F to 46°F), protected from light for up to 24 hours. It must be discarded if not used within 24 hours.

Do not freeze reconstituted Dysport.

Discard the vial and needle in accordance with local regulations.
Reconstitution instructions are specific for the 300-Unit and 500-Unit vials.
Reconstituted Dysport is for intramuscular injection only.
Training
Whether you are new to adult cervical dystonia management, thinking about trying Dysport, or looking for a refresher, take your injection expertise to the next level with the following resources:

C.L.I.M.B.® is a multitier learning continuum designed to accommodate physicians new to and experienced with botulinum toxin therapy. The C.L.I.M.B. program includes on-demand peer-to-peer programs to discuss dosing and reconstitution as well as patient selection for adult cervical dystonia. Be sure to visit CLIMB-training.com often to check for new content and updates.
See eligibility criteria at www.CLIMB-training.com
Cervical Dystonia Dosing and Dilution Webinar With Richard Trosch, MD
Interested in adding your practice to our Dysport Doctor Locator directory or updating your listing?
Visit CLIMB.training.com