When efficacy wears off, even something as simple as walking can  become a challenge again.
Patient's experience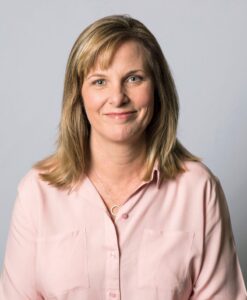 First symptoms or without treatment: "[By the time I was diagnosed,] the symptoms had progressed to a very obvious uncontrollable movement … back and neck pain … Then the pain got worse from the constant muscle spasms…."
With Dysport treatment "I feel sustained between injections up to the 12 weeks.… [Dysport] has lived up to my expectations … it has been a reliable, effective treatment—it's comforting to know that I can count on [it] to work for me."
A History of FDA Approval
Duration of FDA approval is not intended to imply superiority in efficacy or safety of Dysport
Commitment to spasticity
Dysport has been available for 10+ years in the US and it has been FDA approved for the treatment of AULS since 2015 and for ALLS since 2017.
2009
Dysport approved for cervical dystonia
2015
Dysport approved for adult upper limb spasticity
2016
Dysport approved for pediatric lower limb spasticity
2017
Dysport approved for expanded indication for adult spasticity to include lower limb
2019
Dysport approved for expanded indication for pediatric spasticity to include upper limb (aged 2 years and older)
Proven Efficacy
Dysport has an established efficacy in reducing abnormal head position and neck pain of patients with cervical dystonia at week 4* and improvement could last beyond the minimum retreatment period

1,2

*Primary endpoint, total Toronto Western Spasmodic Torticollis Rating Scale [TWSTRS] change
In the treatment of adults with cervical dystonia, start Dysport for lasting symptom relief1
The median time for retreatment in the clinical studies was 14 weeks and 25% of patients had a time to retreatment of at least 18 weeks.
Dysport is FDA approved for the treatment of spasticity in patients aged 2 years and older, and cervical dystonia in adults.
Study Design for Studies 1 and 2
The efficacy of Dysport was evaluated in 2 randomized, double-blind, placebo-controlled, multicenter, parallel-group, single-dose studies with a 12-week follow-up in 252 patients with cervical dystonia (Dysport, n=121; placebo, n=131).
Patients could switch to open-label extension studies after week 4. Dysport 500 Units was given by intramuscular injection, divided among 2 to 4 affected muscles.
The primary efficacy endpoint was total TWSTRS change from baseline at week 4 for both studies.

TWSTRS total score (maximum: 85 points) is composed of 3 subscales (Severity, Disability, and Pain).

For Study 1, the mean TWSTRS total score at baseline was 46 for placebo and 44 for Dysport 500 Units.

For Study 2, the mean TWSTRS total score at baseline was 46 for placebo and 45 for Dysport 500 Units.
Established efficacy
Dysport significantly reduced abnormal head position at week 4 compared to placebo1,2
Improvement from baseline at week 4 in abnormal head position as measured by reduction in TWSTRS total score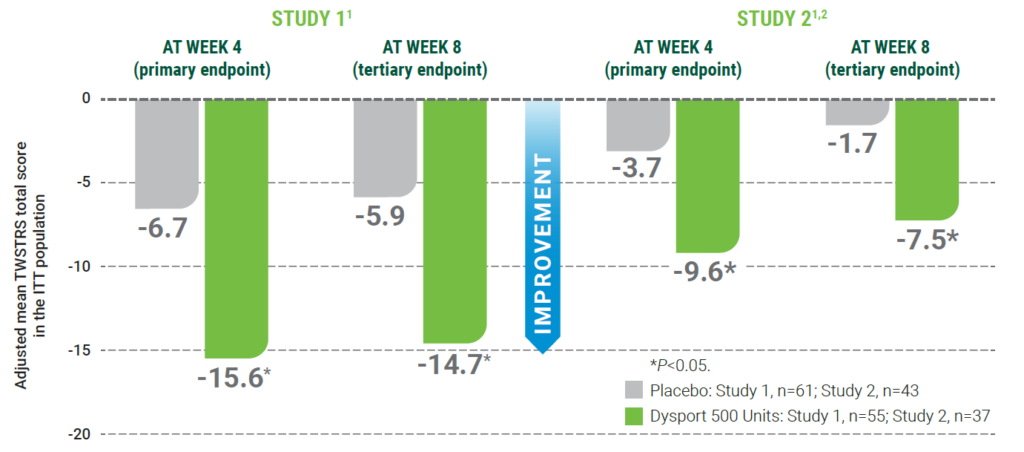 TWSTRS=Toronto Western Spasmodic Torticollis Rating Scale.
At week 4, adults receiving Dysport had a significant reduction in abnormal head positioning vs placebo in 2 studies, as measured by the TWSTRS total score1,2
Most commonly observed adverse reactions (≥5% of patients) were muscular weakness, dysphagia, dry mouth, injection site discomfort, fatigue, headache, musculoskeletal pain, dysphonia, injection site pain, and eye disorders

*Primary endpoint, total Toronto Western Spasmodic Torticollis Rating Scale [TWSTRS] change
†Defined as not previously treated with a botulinum toxin for the treatment of cervical dystonia.
Pain Relief
Dysport significantly reduced neck pain at week 42,4
Reduction from baseline in pain severity following 1 treatment dose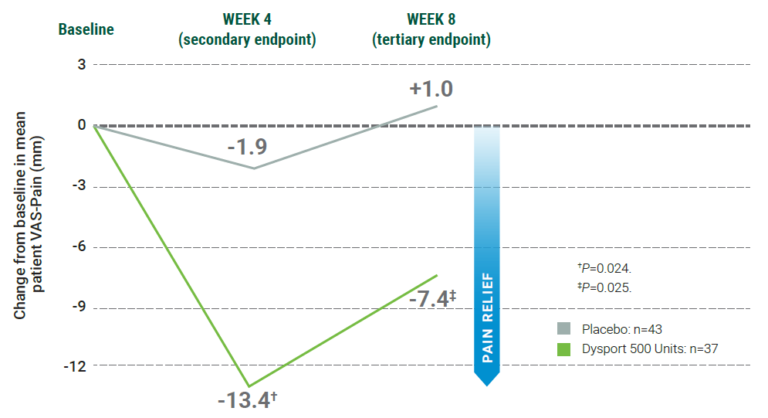 VAS=visual analog scale.
On a 100-point scale (0 [no symptoms] to 100 mm [worst possible symptoms]), baseline VAS score (patient self-rated) was 48.6 in the Dysport group and 52.9 in the placebo group.
Time to Retreatment
Time to retreatment
Use Dysport for symptoms relief that lasts between injections — because a long duration of response should matter
For most patients, Dysport provides improvement in range of motion that lasts beyond the minimum retreatment time of 12 weeks (N=108)1,2

Time to retreatment was not a primary endpoint. Repeat Dysport treatment should be administered no sooner than 12 weeks after the previous injection
Study 1 and Study 2 were followed by long-term, open-label extensions that allowed titration in 250-Unit steps to doses in a range of 250 to 1000 Units, after the initial dose of 500 Units. In the extension studies, retreatment was determined by clinical need after a minimum of 12 weeks
The median time to retreatment was 14 weeks and 18 weeks for the 75th percentile
Register
Interested in adding your practice to our Dysport Doctor Locator directory or updating your listing?
Register for Doctor Locator when you sign up for C.L.I.M.B.®
See eligibility criteria at www.CLIMB-training.com