Dysport® has a well-characterized safety profile in pediatric patients with spasticity across all FDA-approved doses
Safety-PULS
Safety results in 210 pediatric patients (aged 2 to 17 years) with upper limb spasticity receiving Dysport up to 16 Units/kg1
Adverse reactions observed in ≥3% of pediatric patients treated with Dysport in the double-blind study of pediatric patient with upper limb spasticity that were reported more frequently than in the control group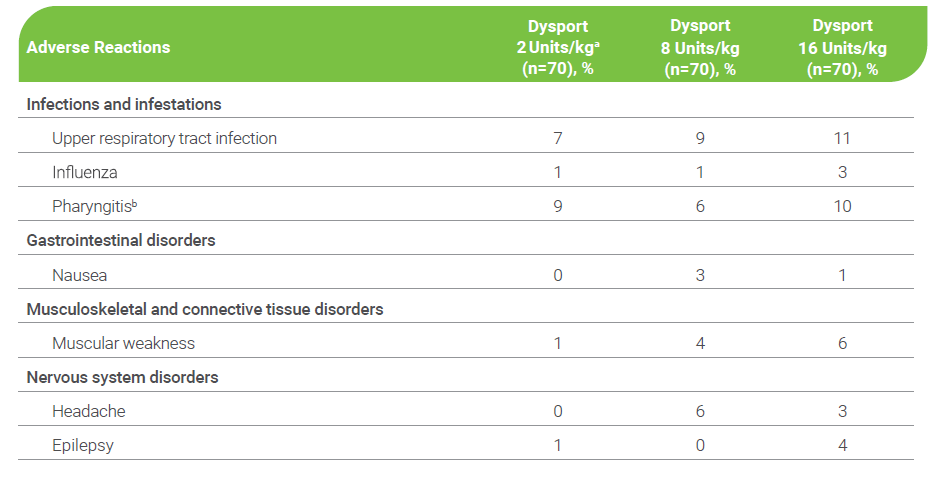 aLow-dose active comparator arm.
bIncludes pharyngitis, pharyngitis streptococcal, and pharyngotonsillitis.
Additional treatment-emergent adverse events occurring below 3% and considered to be adverse drug reactions include: myalgia, pain in extremity fatigue, influenza-like illness, injection site eczema, injection site bruising, injection site rash, injection site pain, and injection site swelling.
Safety-PLLS
Safety results in 160 Dysport-treated pediatric patients (aged 2 to 17 years) with lower limb spasticity receiving Dysport up to 30 Units/kg
Adverse reactions observed in ≥4% of pediatric patients treated with Dysport in the double-blind trial of pediatric patients with lower limb spasticity reported more frequently than with placebo1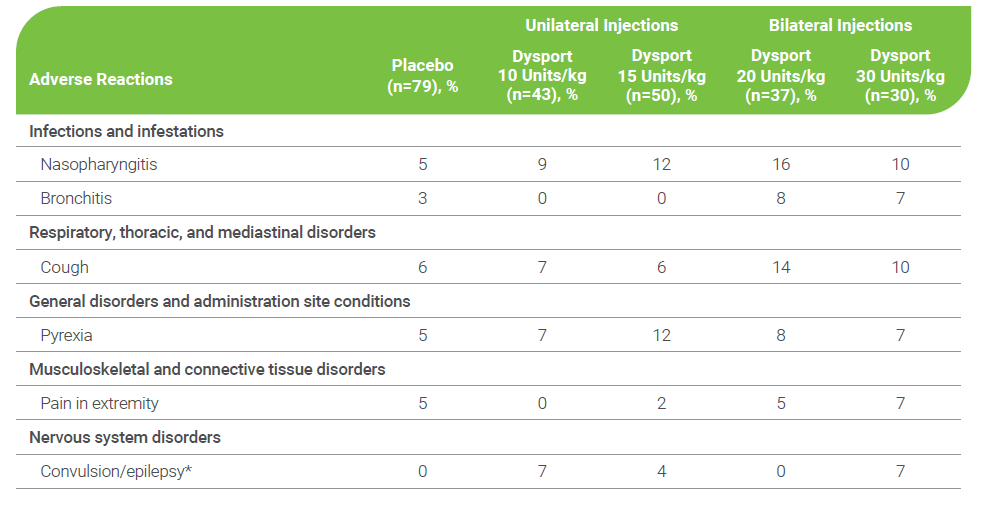 *Convulsion/Epilepsy: 5 patients reported seizures in the double-blind study. Two of the cases occurred in the Dysport 10 Units/kg/leg group, and 3 occurred in the 15 Units/kg/leg group. Of the 5 reported cases, only one was a new occurrence of epilepsy (in the 10 Units/kg/leg group). All cases were considered unrelated to study treatment.6
Register
Interested in adding your practice to our Dysport Doctor Locator directory or updating your listing?
Register for Doctor Locator when you sign up for C.L.I.M.B.®
See eligibility criteria at www.CLIMB-training.com